Luca's Baby Shower
Second baby showers are 'tacky' or a 'faux pas' you say? "No way" I say! I have heard that traditionally, you 'should' only have a baby shower for your first born, since people usually bring gifts (and therefore, you shouldn't need anything for additional children). However, I don't view showers as a method to get baby gifts. To me, showers are a celebration for the baby, meant to welcome the little one, and shower the mom and baby in love. What baby (and mom) doesn't deserve that? So when my friends Lindsay, Desiree, and Kimberley offered to throw Luca a baby shower, of course I said "yes!"
For Bella's baby shower, I offered to host it at my house, which wasn't the smartest location. Bella was four weeks old, and I definitely didn't have the time or energy to prepare our home for a big party! So this time, when my generous friend Lindsay offered to host Luca's shower at her beautiful home, I was more than thrilled! With Bella's shower, I also was involved in the planning process and gave my two (or two hundred) cents about most of the details. This time around, I opted to leave all the creative planning to my capable besties and left everything up to them to decide! I was completely in the dark about all aspects of the shower! And I wouldn't have had it any other way. Typically I like to be in control, so this was a welcome change for a tired mama.
The hostesses with the mostesses know me better than I know myself so we were in good hands. They chose a beautiful, classic, and simple greenery theme, which was perfect and just my style! The gorgeous wreaths were actually handmade and borrowed from my talented friend Erin Crooks (thanks, girlfriend). The greenery for the overhang was by Michelle's Flowers and assembled by my friend Desiree. The beautiful table bouquet and all the fresh greens throughout the room were by Bill's House of Flowers.
The girl's put together a delicious spread that was as visually appealing as it was tasty. They were sure to have all the necessities as well as a few of my favourite things; fresh fruit and veggies, croissant sandwiches, bread and dips, cinnamon buns, and coffee cake. Then my mother-in-law made a fresh batch of her famous cupcakes with the cutest leaf cupcake toppers! Can you say yum?
Then, can we take a moment to admire the most gorgeous floral macaroon tower you've ever seen?! This was in place of a cake, since we already had cupcakes and it was genius! It was stunning, but also so much easier than cutting up and serving cake. Now get this, my friend Desiree actually made this thing!! The girls had pinned some similar towers on Pinterest but leave it to Dez to create one on her own! The delectable french macaroons were courtesy of Wild Serendipity Foods and I dare you to try to eat just one. These things are the real deal! They taste like they are straight from Paris. The fresh greenery and flowers was purchased from Bill's House of Flowers and assembled by my talented friend. I feel like she could go into business selling these towers.
Is a party even a party without champagne? No party I want to attend ;) My friends were sure to have my favourite drink, that is socially appropriate to drink early in the day, on hand- mimosas, along with plenty of fresh squeezed OJ. Adorable 'Luca King' name sign by Saskatoon Chic (borrowed from his nursery).
For those boring folk not trying to turn up (I kid, I kid), they also served flavoured water, which colour coordinated perfectly with the theme, of course.
A personal touch that didn't go unnoticed were all of the adorable newborn photos by Desiree Martin Photography, that were printed, framed, and displayed around the room. So sweet and thoughtful. No detail was spared!
The party started right when it was Bella's nap time, so I had my husband bring her to join the second half of the shower, once she woke up. It was nice to have her be a part of it, but also have some time to enjoy the party alone with Luca too. Bella was so sweet and very appreciative of the sibling gifts some of our guests spoiled her with. The only thing that would have made it better would have been if my husband had styled her hair with the ponytail and bow like I had instructed ;) The kid's outfits are both Zara.
Rather than a traditional guestbook, there was a copy of the book 'The Gruffalo' (which by the way, is a cuuuute story). But truthfully, the girls chose it because being green and gold, it matched the theme also (I'm friends with these ladies for a reason ;). The guests signed the pages throughout the book, and we got to take home a personalized book that we will read regularly, rather than a guestbook that will sit on a shelf and be forgotten.
One of my favourite parts (and there were many) of Luca's shower, were the favours! Probably the cutest favour I have ever seen! Everyone got to take home two scrumptious French macaroons in a clear box, with an adorable sticker which said "Sweet like Luca." I can't argue with that!
A huge thank you to these two lovely ladies who pulled off the most thoughtful and gorgeous baby shower for Luca & I! You made us feel so loved and special. Luca and I are so lucky to have you as friends! Thank you also to my friend Kimberley who was part of the planning process, but who unfortunately came down with the flu and had to miss the party!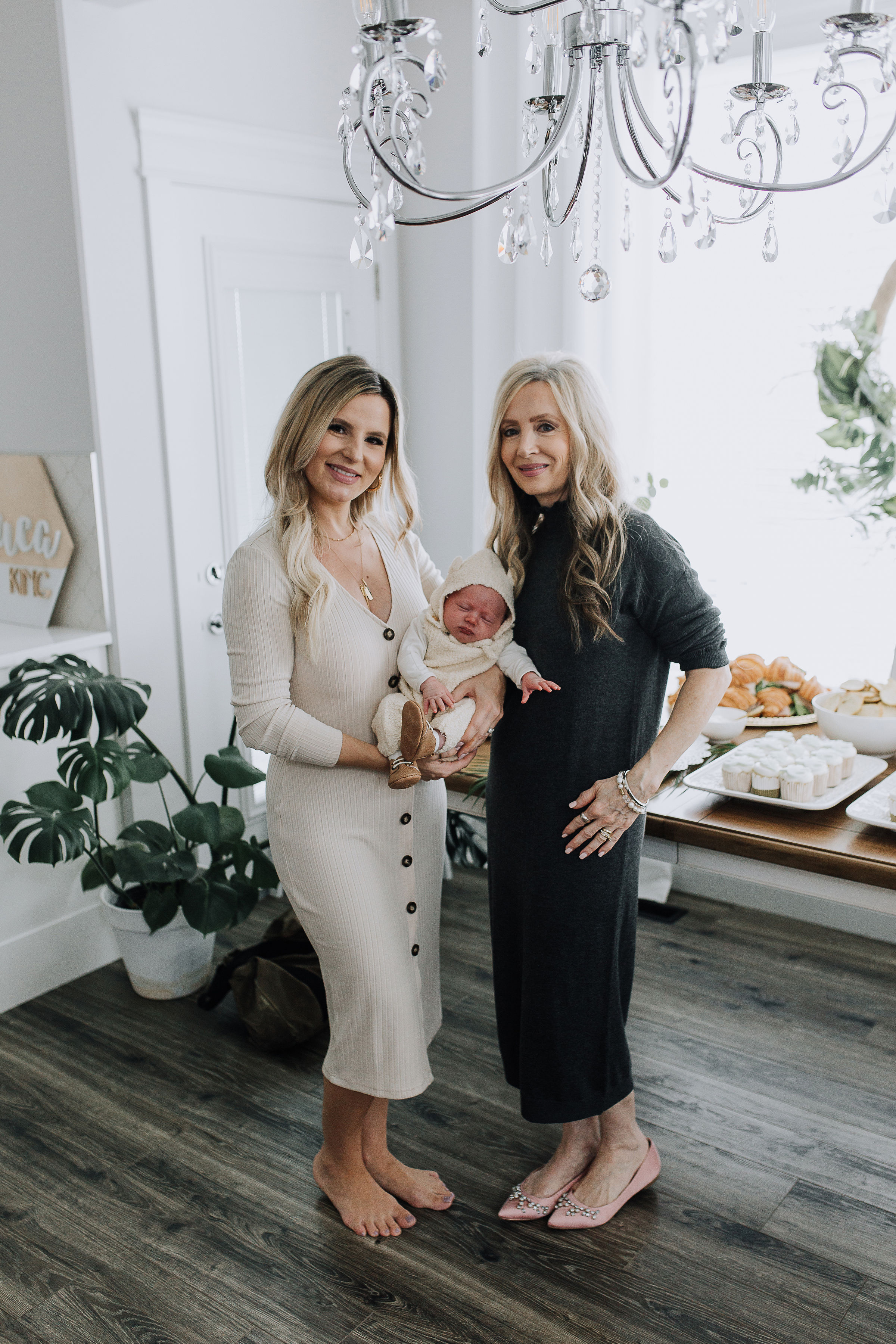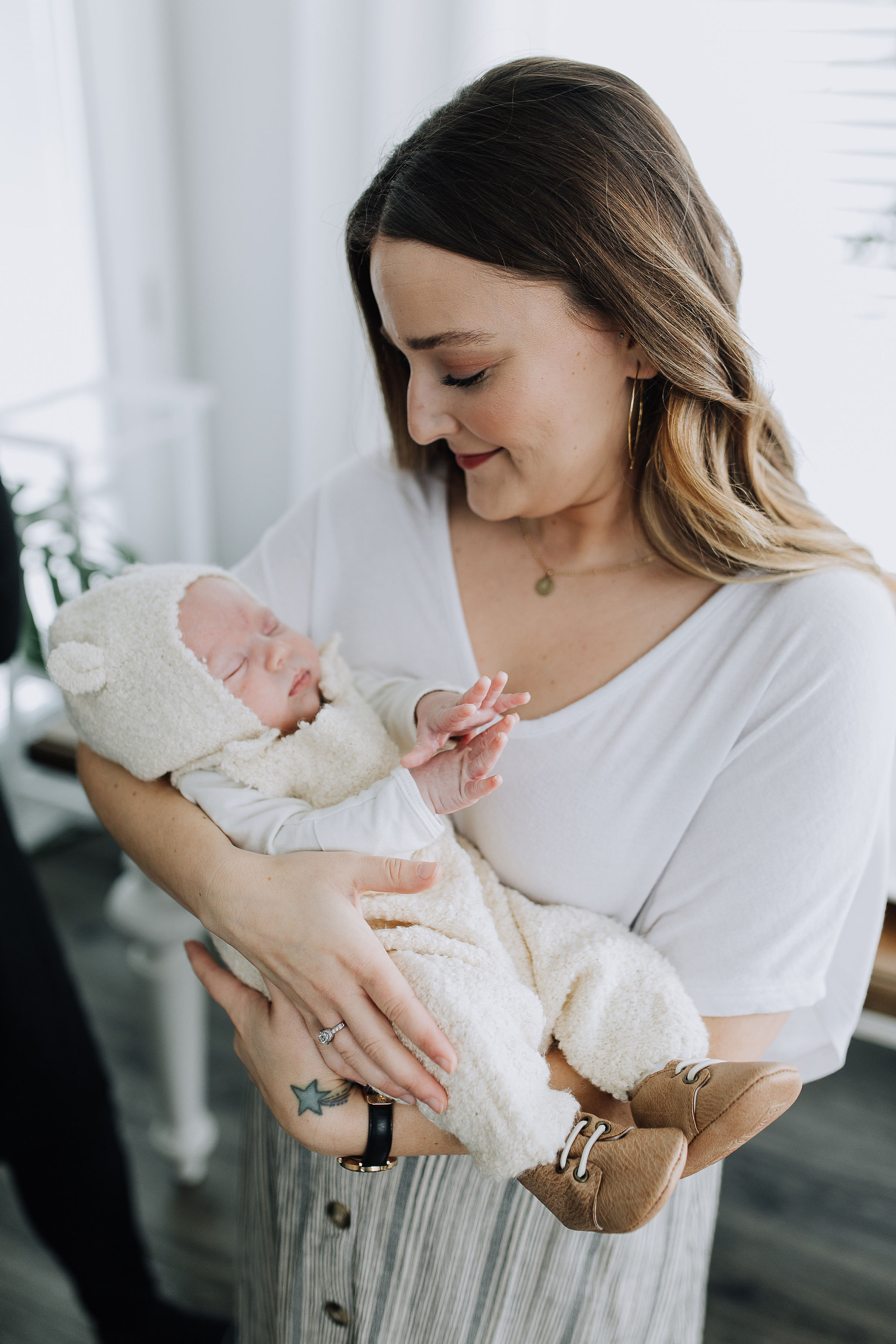 And of course thank you to all of our family and friends who came to celebrate and welcome little Luca King into our world! We love you!!
Xo Kk
Kelsi Kendel